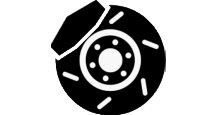 Brake Service Coupons & Promo Codes
There's no other way to say it, so we'll be direct: good brakes save lives. How many times by now have you avoided disaster—or trouble at the very least, with a gentle tap of the brake pedal? Traffic accidents can happen at any time, and for us to avoid them, our brakes need to function perfectly. Sadly, maintenance isn't cheap; not unless you use brake service coupons, that is.
All Your Brake Service Coupons, In One Place
The mechanism seems simple, right? You hit the pedal, your vehicle slows down and then stops. But the thing is, your vehicle's brakes are a complex system with many moving parts, all of which can (and will) wear down and break with use. Replacing even the cheaper bits will quickly add up.
That is why here, at Your Best Deals, we've listed a selection of coupons for every break-related service you can think of. Do you need to buy new brake pads, or have your current ones professionally replaced? Do you need new brake rotors, or just want to bring your vehicle in for a brake-related check-up? If a brake service coupon exists, chances are that you'll be able to find it here.
How to Save Money With Brake Service Coupons
Regular use of coupons will help keep your car running (and stopping) smoothly for a long time—and with minimal expense. For instance, by using some of the coupons listed here, you will get a better deal with:
Brake System Maintenance
Maintenance isn't free, but it is vital. Something as minor as failing to replace brake fluid could lead to damage to other, more expensive parts. What might seem like saving a couple of dozen bucks could end up eating up a grand in the long run. Why not use a brake service coupon, get it done cheaply, and avoid a headache?
Brake Pads Replacement
Brake pads can actually end up costing you quite a bit, especially if they're made of ceramic. By using brake pad coupons or brake pad replacement coupons, you'll greatly reduce the strain on your wallet. Additionally, some generic brake pads can be particularly harsh on the rotors, shortening their lifespan. When you buy brand-name pads for less money, you'll be saving a lot.
Brake Calipers Replacement
Brake calipers wear out quickly and often need to be replaced within as little as a year. While you can try to have your caliper rebuilt or have the pins replaced, there's no denying the reliability of a new caliper. By using one of our coupons, you can install a brand new caliper for a fraction of the cost. And given how expensive these can get (most go for about 100 bucks), we'd call that a smart investment.
Brake rotors
Depending on the brake pads that you use, your rotors may almost count as disposable items. And even if the pads aren't particularly aggressive, you'll still need to change the rotors from time to time. Our brake rotor replacement coupons will make sure that you never have to pay the full price.