Did you know that all the moving parts of the engine don't come in contact with each other? It's the engine oil that keeps them separated, which, ultimately, prolongs the life of the parts. The engine oil also keeps the internal temperature in check.
In other words, it plays a great role in cooling the engine. But then, the engine oil cannot serve you for life. It gets contaminated in due time, putting you at risk of a costly expense. To put it simply, a routine oil change maintenance procedure is a must to keep your car running smoothly and to avoid an expensive repair.
If you are due for an oil change, Jiffy Lube is one of the best places to visit for an oil change job. Although they offer different automotive services, their main business is oil changes. With over 2000 franchised locations, they serve millions of customers each year and you can easily find them in your local area. Their oil change service is best for folks who want a thorough and quick service without breaking their bank. Before we discuss their pricing, let's tell you why they have an upper edge over the competition.
Why Choose Jiffy Lube Oil Change Service?
To begin with, the oil change prices at most of the Jiffy Lube locations are less expensive than dealerships and repair shops. The fact that you can watch them perform the work on your car is an added benefit in itself. You will know what's going on with your car. So, you can say that they are quite honest in their dealings.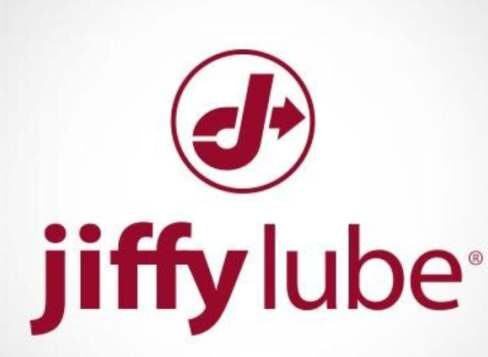 Of course, it's easy to bash such stores that have hundreds of thousands of oil change locations. However, Jiffy Lube hardly gets called out for cheating customers. Not to mention that their waiting time is usually short. You can be in and out of the Jiffy Lube shop within the average time needed for a typical oil change job.
Their service time for a job of this nature is usually thirty minutes or less. Plus, you might also get a good deal on the prices because they do not shy away from offering generous deals from time to time (more on this later).
Keep in mind that Jiffy Lube stores are not filled with struggling mechanics who are either starting out or are in desperate need of a job. Unlike your local garages, availing the services of Jiffy Lube won't put you at the risk of someone forgetting to use the right type of oil or not doing the job as expected due to lack of sheer knowledge/experience.
So, you won't have untrained, uneducated, or underpaid people working on your car. The fact that they hire trained folks, the car technicians will also know what oil will work best for your car. Of course, some of the smart technicians might pitch you extra services, just like mechanics at most repair shops do. But then, you are not obligated to fall for the upsells. You can simply refuse any upsells and stick with the oil change service only.
What Type of Oil Does Jiffy Lube Offer?
At Jiffy Lube, you can get the following different types of oil service.
Conventional Oil: Conventional motor oil is suggested for cars with simple engine designs. It costs much less than other comparable motor oils.
Full Synthetic Oil: Formulated from high performing additives, this is the most expensive oil as it contains better properties than all other motor oils.
Synthetic Blend Oil: The synthetic blend oil is a few notches below the full synthetic oil. But then, it's better than your regular conventional oil.
High Mileage Oil: This oil is specially formulated for older vehicles that have crossed 75,000 miles. It has unique additives in it to support older engines.
How Much Is an Oil Change at Jiffy Lube?
Jiffy Lube centers are located in diverse geographical locations. As you might already know, the running cost of doing business differs from one location to another. To put it simply, the price may be higher or lower, depending on certain factors, which are, the location of the independent Jiffy Lube franchise, the car model, the volume of oil needed, and so on. So the price of an oil change at Jiffy Lube near you can vary from other their auto center in your local area.
However, you are bound to get what you pay for. That said, the average price for an oil change at Jiffy Lube is around $45. The price starts at $29.99 for conventional, and it can go all the way up to $77 for a full synthetic oil change. Jiffy Lube includes five quarts of oil with the standard oil change service. Generally speaking, most cars need anywhere between five to eight quarts of oil at the time of oil change.
Jiffy Lube Oil Change Price List
| Service | Price |
| --- | --- |
| Signature Service - Conventional Oil Change | $39.99 ($29.99 coupon price) |
| High Mileage Oil Change | $60.99 |
| Synthetic Blend Oil Change | $64.99 |
| Full Synthetic Oil Change | $76.99 |
Why does Synthetic Oil Cost More than Conventional Oil at your local Jiffy Lube Center?
Synthetic oils come at a higher price tag simply because they do a better job of keeping the car's engine as close as new for longer than conventional motor oil. Created from special chemical compounds, their protection levels are far better than your conventional oil. You can think of conventional oil as good oil, synthetic blend oil as a 'better' than good oil, and full synthetic oil as the best oil. Compared to other car centers such as Walmart, Firestone, Sears, Jiffy Lube is not cheaper but has other pros for sure.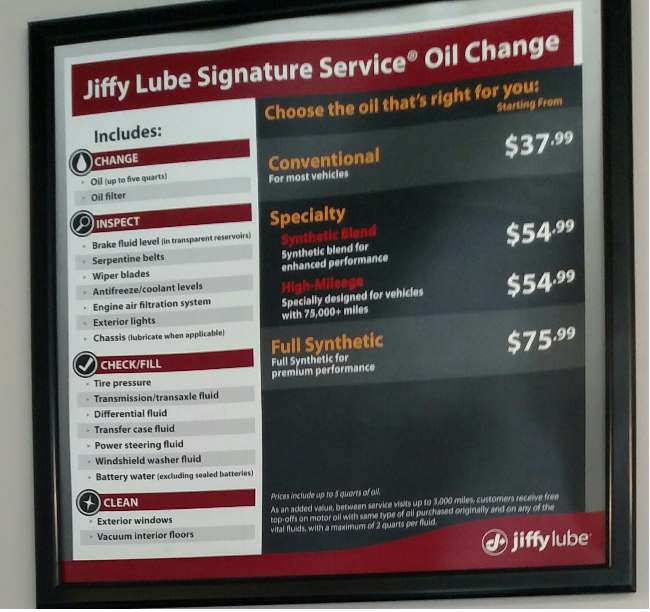 At Jiffy Lube, the car technicians will tell you which oil will work best for your car. Of course, you can also look at the vehicle manual for recommendations. Regardless of whether a car manufacturer suggests the use of synthetic oil or not, most cars are bound to benefit from the use of high-quality oil.
Also, synthetic oil makes up for the high upfront cost by improving the fuel mileage and by increasing the gap between two oil change visits. So, the extra dollars that you spend on putting synthetic oil in your car will pay for itself.
What are the Benefits of an Oil Change at Jiffy Lube Auto Centers Near You?
Motor oils have certain antioxidants in them that limit oxygen exposure to the vital parts of the engine, saving them from rust and corrosion.
Motor oils keep all the engine parts properly lubricated, ensuring a smooth and comfortable ride in the process.
They also prevent dirt and other waste particles from building up, which can otherwise damage vital engine parts.
Getting the oil changed leads to better mileage. Who in the right mind would not want better fuel efficiency?
The right motor oil also leads to less harmful emissions, which means that your vehicle won't be polluting the environment as much as before.
The chances are that your vehicle will also pass the necessary vehicle emission test with flying colors because of the new oil.
Clean and fresh motor oil extends the life of the engine as well. Furthermore, it enhances the life of all the internal parts of the engine.
Considering all the benefits above, it's easy for anyone to tell that it's not a type of service that one can afford to ignore. It's a necessary, critical, and important maintenance procedure that does a lot of good to the car's wellbeing.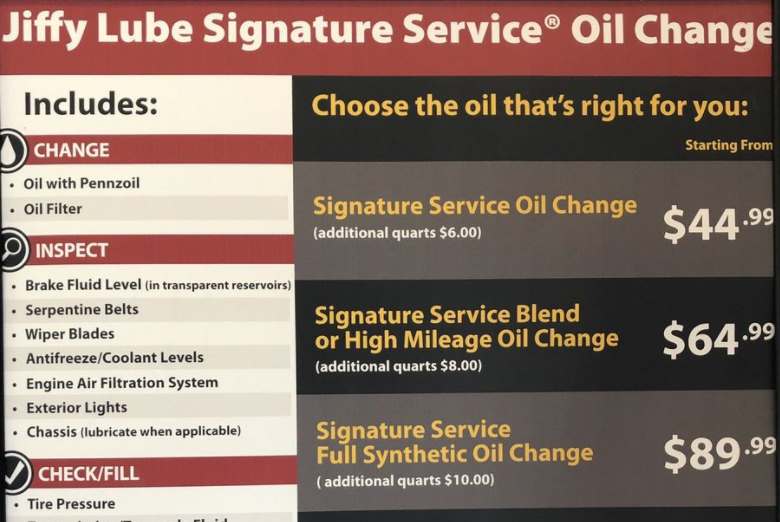 What is the Ideal Frequency for an Oil Change?
Most experts recommend an oil change every 3000 miles. If not done within the stipulated time frame, the car's engine will suffer. It will also cause heating issues and hamper the car's fuel efficiency. That said, the 3000-mile oil change interval is not etched in stone, which is to say that the type of oil used, one's driving habits, vehicle's age, etc. can alter the suggested interval.
For instance, most engines can easily survive for 5,000 to 7,500 miles in between oil changes with the use of today's upgraded engine oil. If you use full synthetic oil, you can afford to go past the 10,000-mile mark as well. Whether the suggested oil change interval for your car is 3000 miles or 10,000 miles, please don't skip it.
After all, an oil change is the cheapest maintenance service that offers the biggest return on your investment by saving you from costly engine damage.
What Engine Oil Does your Car Need?
Some say that it doesn't matter what oil you use as long as you change the motor oil whenever it's due for a change. However, this notion has been quite controversial with many vehicle owners. Therefore, it's best advised to look at the owner manual to see what the car manufacturer suggests. After all, no one will know the car better than the makers themselves. They will know what oil complies best with the car's specs.
If they suggest that you use high-quality synthetic oil, then it would be in your best interest to not use inexpensive conventional oil. If you have lost the owner manual, check the motor oil number mentioned on the cap from where the oil is filled. It will tell you the proper motor oil to be used for the car. Of course, nothing is stopping you from using something else. However, you need to ensure that the choice of oil doesn't cause any harm to the car's engine.
Important Pointer 1: Some high-end cars are designed to accept only synthetic oil. So, you cannot use conventional oil in them. If you are really concerned about the price of synthetic oil, you should avoid getting a car whose engine is designed to accept synthetic oils. Keep in mind that you can also void the warranty by not using the oil suggested by the car manufacturer.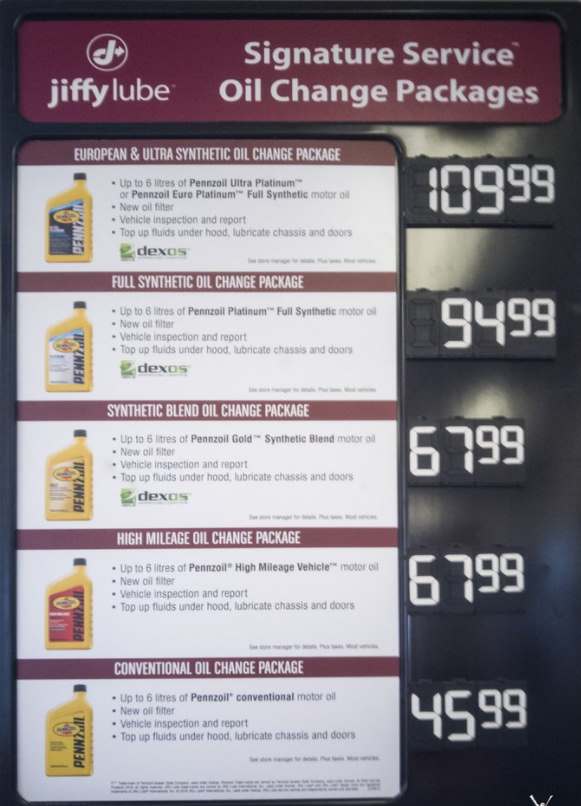 Important Pointer 2: It's not advisable to just top off the oil as opposed to performing a full oil change because a top off won't get rid of the old and dirty oil that's already present in the engine. The dirty oil will get mixed with the fresh oil, contaminating it to a certain extent, preventing it from working to its best potential as it should. So, don't top off the oil, unless it's an emergency low-oil scenario.
Important Pointer 3: Depending on what you are willing to spend for motor oil, you are free to switch the brand of oil. In other words, you can switch between conventional and synthetic oil and vice-versa. That said, it's advisable to stick with a higher-grade oil if budget is not an issue with you.
Important Pointer 4: Should you decide to change the engine oil on your own, make sure to dispose of the used oil and filter safely. You might have to take them to a waste recycling facility that accepts such items. Most auto repair stores also accept used engine oil for a nominal recycling fee.
Jiffy Lube Auto Centers Working Hours
| Day | Working Hours |
| --- | --- |
| Monday | 7 a.m. - 7 p.m. |
| Tuesday | 7 a.m. - 7 p.m. |
| Wednesday | 7 a.m. - 7 p.m. |
| Thursday | 7 a.m. - 7 p.m. |
| Friday | 7 a.m. - 7 p.m. |
| Saturday | 7 a.m. - 7 p.m. |
| Sunday | 7 a.m. - 7 p.m. |
Jiffy Lube frequently runs special deals, which makes their automotive services more affordable than usual. The special deal may include a discounted rate or some sort of offer where they will provide additional service for no extra cost.
For instance, they might inspect your car for potential damages, clean the car's interior, or check the fluid level as a part of the complimentary service. They might also do some advanced inspection on your car as a preventative measure. The type of complimentary service that you might receive will depend entirely on the offer you get.
The good news is that there are many Jiffy Lube's auto centers discount codes on our website, which can be printed or scanned for use. So, it's not too difficult to lay your hands on them. Not to undermine the fact that you can also get other discounts from them by using your credit card. They normally offer a special rate low on a fleet of credit cards.