Our cars are not built to run indefinitely without an oil change. Basically, the motor oil is the 'lifeblood' of a car's engine. Without it, the engine parts will be deprived of proper lubrication, which will cause them not to last long. Proper lubrication aside, the motor oil also cools down all the vital parts to increase the life of the engine.
Gladly, it won't cost you an arm and a leg to perform an engine oil change at a location, such as Walmart. People have been driving their personal and commercial cars to Walmart for years now for an engine oil change. So, how much would an oil change cost you at Walmart?
How Much Does an Oil Change Cost at Walmart?
Depending on the quality and the quantity of oil, the oil change price would vary from one car to another. Generally speaking, you can get the engine oil changed for as little as 19.88 dollars for their Pit Crew oil change. That said, the cost can shoot up to $100, depending on the type of oil you choose and the size of the car's engine.
So, the price isn't really fixed. As it's easy to tell by now, a handful of factors actually increase or decrease the price. To understand the pricing better, let's take a look at the different types of motor oils that Walmart auto centers offer to its customers.
Walmart Oil Change Prices:
| Service | Cost |
| --- | --- |
| Pit Crew oil change | $19.88 |
| Standard oil change | $29.88 |
| High Mileage Oil Change | $39.88 |
| Power & Performance oil change | $49.88 |
Walmart Full Synthetic Motor Oil:
This is the best motor oil that you can get for your vehicle. You can say that the full synthetic motor oil is the cream of the crop. So, it's going to cost more than other comparable motor oils out there. Believe it or not, it costs almost three or four times the cost of the conventional engine oil. Given its cost, it's more suitable for cars that require a high level of lubrication and performance.
Luxury or sports car owners usually go with full synthetic motor oil since they don't like to settle for anything less than the best for their beloved cars. Needless to say, those who prefer inexpensive oil change might not think about full synthetic motor oil.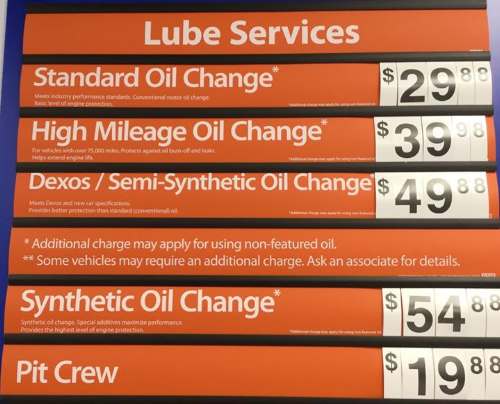 Walmart Synthetic Blend Motor Oil:
As the name hints, it's a blend of different oils. Basically, it's a mixture of synthetic and regular motor oil. So, it's not going to cost as much as the full synthetic motor oil. At the same time, it will carry many properties of full synthetic oil. Basically, this oil offers a nice middle ground.
Therefore, it's becoming an increasingly popular choice among most vehicle owners who want added protection, lubrication, and of course, the performance of synthetic oil without having to spend a lot. Of course, the quality of this oil isn't at par with the full synthetic motor oil. That said, synthetic blend motor oil is several notches better than your conventional motor oil.
Walmart Conventional Motor Oil:
This is your regular or most commonly used motor oil that has been around for a long time. It's best suited for light-duty vehicles that don't require top-notch lubrication. As expected, it costs less than its competition.
So, it's a great choice for those who want to get the motor oil changed at a shoestring budget. It's also worth mentioning that most vehicles will do just fine with conventional motor oil. As long as the car manual suggests that it's perfectly fine to use conventional motor oil, vehicle owners can consider using conventional motor oil over other available options.
Walmart High Mileage Motor Oil:
High mileage motor oil has ingredients in it to take good care of older engines, which is to say that this motor oil is suitable for cars that have covered thousands and thousands of miles. Simply put, it's designed for cars that have crossed more than 75,000 miles in the odometer because such cars require special attention.
It's much thicker than your regular oil, which helps to reduce oil consumption, leaks, and smoke emission from the older engines. Of course, it also does a wonderful job of protecting all the vital parts of the engine, as it removes sludge from the car's engine.
How Much is the Lowest Price for Oil Change at Walmart?
As most of you guys may already know, Walmart is a low-price leader. It provides one of the cheapest oil change rates in the market today. In fact, Walmart shows up on the top of many surveys that discuss the best place for a low-price oil change. For those who don't know, Walmart's philosophy revolves around volume, which allows them to keep their rates lower than other providers in the industry.
The lowest rate for an oil change is roughly around $19.88 for conventional motor oil, which is a great choice for vehicle owners who do not want to roll up their sleeves and still want to get the job done at a budget price. Of course, the price would vary based on the type of car you own and the type of oil you choose.
Some cars may need synthetic or high mileage oil to meet the car manufacturer's recommendation. So, the price is not going to be 20 bucks for such cars, even at Walmart auto centers. Compared to other car service chains such as Jiffy Lube, Valvoline, Firestone, Sears, Walmart Auto Care centers are generally cheaper.
Is Synthetic Oil Worth the Extra Bucks?
Synthetic oil is said to be considerably better than the regular motor oil for a good number of reasons, which are discussed below:
It's more environmental-friendly than your conventional motor oil.
The oil does a better job of protecting the parts than your conventional oil.
It also offers better weather protection than the regular engine oil.
It makes the car more fuel-efficient than usual.
It does a great job of reducing engine wear and tear.
Synthetic oil will also get you more miles between two oil change jobs.
If your car manual suggests that you should use synthetic oil in the car, don't try to cut corners by using conventional oil. Any money saved by using low-quality oil will backfire in some way or the other. You will most likely end up spending more on engine repairs.
How Often should you Change the Oil?
No matter how little your car is driven, it's advisable to change the motor oil at least once every year. After all, the existing oil will stop protecting your engine when it's not changed in due time, leading to an expensive repair down the line. In other words, having a clean oil can save you from costly repair.
That said, most car experts suggest that you perform an oil change every 3,000 miles. Newer vehicle owners can afford to wait a lot longer. You can perform an oil change on them every 5,000 to 7,000. That said, the frequency of oil change also depends on the car you drive. So, do take a look at the owner manual for recommendations on the same.
Although the manufacturer's recommendation for an oil change is usually on the safer side, it's better to follow the suggested oil change interval as closely as possible.
How much Quantity of Oil would be Needed?
As much as it's important to change the engine oil periodically, it's equally important to use the correct amount of oil during the oil change process. As expected, the engine oil capacity will differ from one car to another.
Therefore, it won't be possible for anyone to make an accurate guess without knowing the make and model of your vehicle. Too little oil won't do the job well, and too much oil will actually cause more harm than good to your vehicle.
Therefore, you should have the exact information at your fingertips. The car owner will tell you about the engine oil capacity of the car. Of course, the majority of the experienced car mechanics may already know the engine capacity of most cars. So, they won't need an owner manual to get the exact information.
Is a Filter Change Needed at the Time of Oil Change?
Absolutely yes! Not changing the filter at the time of oil change actually beats the purpose of an oil change in some ways. After all, the whole idea behind the oil change process is to remove the impurities, replenish the lost additives, and, ultimately, protect the engine's parts.
If you don't replace the filter, you will end up leaving some harmful contaminants. As a result, the freshly charged additives will get depleted sooner than usual. Not to mention that a choked filter won't do a good job of trapping new impurities that can enter the car's engine.
So, it's worth spending an extra couple of dollars on a new filter at the time of oil change. In other words, it makes sense to change the filter every time you get the engine oil changed.
Why Choose Walmart Auto Centers Over Others?
The nice thing about Walmart is the lack of upsell or cross-sell. Better still, they use high-quality/expensive oil only if it's necessary or recommended in the owner manual. In other words, they won't pitch you stuff that you don't need. Seriously, you will hardly come across people complaining about them being ripped off by Walmart's technicians.
If they tell you that your car needs a new filter, then it probably does. Unlike car dealerships, they will do what's best for you and your car. So, your precious dollars will be put to the best use. Not to mention that they have thousands of centers nationwide that employ highly skilled and experienced car technicians who know their job very well. So, you can trust them to do a good job on any given day.
Is Appointment Required?
An appointment is not necessary, which is to say that you can drive right into any nearby Walmart auto center to do an oil change. They usually attend customers on a 'first come, first serve' basis. Of course, it's best to avoid weekend visits to dodge a queue.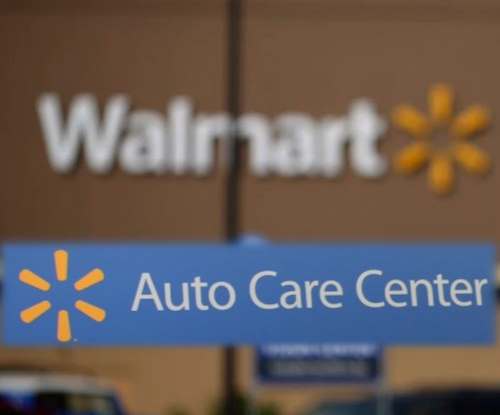 If you really want to go there on the weekend, drive there early. The good news is that they have a handful number of employees. So, it won't take more than an hour of waiting for an oil change, which is to say that you don't always have to wait long, even if there is a small queue. Most Walmart auto centers are also dog-friendly.
Therefore, you can bring your furry friend to the store for a good company. The chances are that your dog will become popular there.
Walmart Auto Centers Working Hours
| Day | Working Hours |
| --- | --- |
| Monday | 7 a.m. - 11 p.m. |
| Tuesday | 7 a.m. - 11 p.m. |
| Wednesday | 7 a.m. - 11 p.m. |
| Thursday | 7 a.m. - 11 p.m. |
| Friday | 7 a.m. - 11 p.m. |
| Saturday | 7 a.m. - 11 p.m. |
| Sunday | 7 a.m. - 11 p.m. |
How to Tell if the Oil is Actually Changed?
To begin with, you should never take your car to an auto repair center you cannot fully trust. That said, it's easy to inspect whether or not the oil change was actually performed on your car. To do the inspection, you will have to open the car's hood and pull the oil dipstick out to examine the oil. Ideally, the new motor oil will look golden.
The color will be almost the same as your regular cooking car. Unchanged or dirty motor oil will look brown to almost black. In case of any suspicion, you will have to confront the manager/supervisor. Sometimes, you will often notice a difference in the engine noise. The car will sound a little different after an oil change. Of course, the most reliable way to go about this is to watch the work in person.
Can you Change the Motor Oil on your Own?
Of course, you can save money by taking matters into your own hands. However, you might want to take a step back and rethink it. Although it's a simple job, there are certain risks and conveniences involved in the process. There are times when additional steps may be required at the time of oil change, which you may not be familiar with.
Not to discount the fact that first-timers will have to spend some time learning how to perform the oil change on their own. Other than learning the required steps, they will also have to familiarize themselves with the common mistakes that need to be avoided during the process. Furthermore, they should even know how to discharge the old oil in a safe and efficient manner.
Only if you think that all of this is worth your time and efforts to save a small chunk of money, you should attempt to change the engine oil in your car. Otherwise, it's better to leave the job in the hands of experienced car technicians who do this thing for a living.
Thankfully, they do offer coupon codes from time to time. That said, their prices are already lower than the competition. So, you are bound to save money whether or not you get a chance to grab the coupon codes.
With some coupons, they include a courtesy car inspection with the oil change service. This means that you will get more than your money's worth, and, of course, a great deal of peace of mind as well, knowing that your car is thoroughly inspected for faults and damages.